Daily Irish Luck in Ireland Daily Million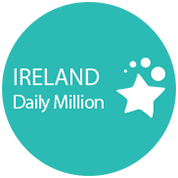 Because of the huge interest in lottery games in Ireland, the Irish National Lottery introduced Daily Million in September 2012 as a daily game with a fixed €1 million jackpot prize. The daily game proved so popular that the National Lottery added a second daily draw starting in April 2016.
The National Lottery, which operates the Daily Million draws, has raised billions of euros for good causes across the Republic of Ireland. These good causes include sports and other recreation, national culture (including the Irish language), the arts, health and welfare.
Owing to the Daily Million's small guess range, the odds of winning the jackpot are quite high. Draws take place every day at 2pm and 9pm local Irish time, including on weekends and bank holidays.
Winning Ireland Daily Million
Playing Ireland Lottery's popular twice-daily Daily Million draws is as easy as selecting six numbers from 1 to 39. In the draws seven numbers are chosen, comprising of six main numbers and one bonus number. To win the fixed €1,000,000 jackpot, your selections must match the six main numbers. The bonus number is used to determine the second, fourth, and sixth prize tier winnings. All prizes are paid out tax-free!
Your odds of winning a prize in this twice-daily lottery draw are 1 in 28 and there are incredible jackpot odds as well. For a chance at winning Irish lottery prizes, play Ireland Daily Million online now!
How to play Daily Million draws outside Ireland
Even if you're not currently in Ireland you have many different ways to play the Daily Million draws. Official lottery tickets can be purchased online from operators offering standard one-time entries. You can purchase tickets to several draws with a multi-draw package and you can enter every consecutive draw by purchasing a lottery subscription. With two Daily Million draws a day, an online subscription is possibly your best way to never miss a draw, no matter where you are.